Burbank Overview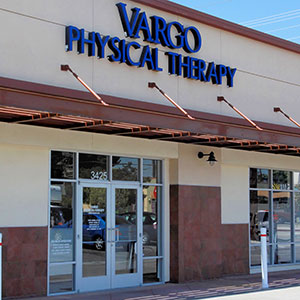 Address:
3425 W. Victory Blvd.
Burbank, CA 91505
Phone: 818.955.8855
Fax: 818.955.8833
Opened in January 2011, the Burbank location is conveniently located at the corner of Hollywood Way and Victory Boulevard, and is easily accessible by Highway 134 or Interstate 5. The newest of all of the Vargo PT locations, the Burbank clinic also offers free and convenient parking.
The location has become one of the fastest growing clinics in part because of its beautifully designed open floor plan and friendly feel. With an abundance of natural light, the clinic boasts all new equipment including an inversion table, a cervical traction device to help decrease stress and compression issues, and free motion exercise equipment for gait training. The clinic also has multiple ASTYM Certified Clinicians onsite to help foster healthier connective tissue and long term healing of muscles and tendons. So whether you are looking to relieve chronic pain, gait training, or are an athlete wanting to push yourself, the Burbank clinic has all the right equipment and therapists for you.
The following is a partial listing of the services that the Burbank clinic offers: