Northridge Staff
David Feeley, PT
is a Partner at Vargo PT and the Clinical Director of the Northridge Vargo PT clinic. He has been practicing physical therapy as a licensed Physical Therapist since 1993. A former collegiate baseball pitcher, he in now a sports physical therapist, specializing in baseball-related injuries including elbow and shoulder issues.
Mr. Feeley holds a bachelor's degree in health education and physical therapy from California State University, Northridge. He began his work as a physical therapist in acute care. After his tenure there and after working at a number of other outpatient physical therapy clinics Mr. Feeley opened his own practice.
Mr. Feeley opened the Northridge office in 2001. He created a clinic that delivered great service which he defined as taking time to listen to each patient in order to focus on what they needed -- not what they could do -- to develop treatment plans which would be successful. He also put a high value on hands-on therapy which he believes yields better results. This treatment philosophy was widely popular in the community. In 2004 Mr. Feeley made the decision to merge with Vargo PT.
Mr. Feeley is ASTYM certified. He is married with two daughters. He enjoys his kids, their sporting activities as well as golfing in his free time.
Specialties:
Outpatient physical therapy
---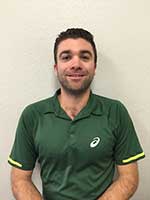 Eric Barlevav, PT, DPT
is a licensed Physical Therapist and Doctor of physical therapy at the Northridge Vargo Physical Therapy clinic.
Dr. Barlevav received his bachelors of science in exercise physiology at the California State University, Northridge in 2009 and his doctorate of physical therapy from the University of St. Augustine for Health Sciences in San Marcos California.
A Southern California native, Dr. Barlevav has a passion for sports and athlete rehabilitation. He was a domestic and international professional cyclist for a number of years during and after college and applies this experience to his practice as an orthopedic specialist in physical therapy. Dr. Barlevav is an expert kiteboarder, snowboarder, rock climber, tennis player, runner, and long-distance hiker with a 2015 thru-hike of the Pacific Crest Trail from Mexico to Canada.
Dr. Barlevav's clinical experience includes physical therapy internships in the neurological and orthopedic settings at St. Joseph Hospital in Eureka California, The Springs at Ensign Skilled Nursing Facility in La Jolla California, and the outpatient orthopedic clinic at the Tri-City Wellness Center in Carlsbad California.
Dr. Barlevav is a young professional eager to grow his practice and work with patients to maximize function.
Specialties:
Outpatient Orthopedics
Post-Surgical Rehabilitation
Lower Extremity Rehabilitation
---
Elhum Naysan, PT, MPT
is a licensed Physical Therapist and has worked at the Northridge Vargo PT clinic since 2005 helping patients to restore function, improve mobility, relieve pain and prevent and limit permanent physical disabilities for patients with injuries or suffering from chronic pain. She works one-on-one with patients to create and help execute therapy plans aimed at increasing flexibility, strength and endurance.
Prior to joining Vargo PT as a physical therapist, Ms. Naysan obtained her bachelor's degree in psychology from the University of California, Los Angeles. She earned her master's degree in physical therapy from California State University, Northridge performing her rotations at Kaiser Permanente Los Angeles Medical Center, Centinela Hospital Medical Center and Cedars-Sinai Medical Center.
Married with two children, Ms. Naysan enjoys reading and spending time on the beach in her free time.
Specialties:
---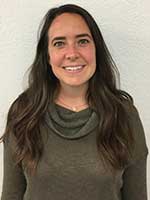 Jenna Perea, PTA
is a Physical Therapist Assistant and certified athletic trainer who works at the Northridge location.
Jenna originally joined the Vargo team in 2010 as an aide before graduating from California State University, Northridge with her bachelor's degree in Athletic Training. Subsequently, she acquired her physical therapist assistant license from Cerritos College and rejoined the Vargo team as a PTA in the summer of 2016.
Jenna has a passion for working with patients to improve their quality of life by promoting functional exercise and movement. She enjoys working one-on-one with patients to become familiar with not only their injuries but their personalities as well, believing that healing comes from not only physical therapy but empathy and encouragement.
In her spare time, Jenna enjoys traveling, reading, and spending time with her friends and family.