Sherman Oaks Staff
Steven Eaton, PT, DPT, CSCS
Is the Clinical Director at the Vargo PT Sherman Oaks clinic. He is a licensed Physical Therapist, an ASTYM certified clinician, a Certified Strength and Conditioning Specialist, a Doctor of Physical Therapy and is CPR certified. He specializes in outpatient orthopedics and sports physical therapy.
Mr. Eaton earned his Bachelor's degree in Kinesiology from San Diego State University with an emphasis in pre-physical therapy and later earned his Doctorate in Physical Therapy from Western University of Health Sciences. He has a variety of clinical experience within the different fields of physical therapy with his emphasis being in orthopedics and sports rehab. Steven is a member of the American Physical Therapy Association.
His hobbies include maintaining physical fitness, playing recreational sports, and spending time with his English bulldog.
Specialties:
Outpatient orthopedics
Post-surgical rehabilitation
Certified Strength and Conditioning Specialist
CPR Certified
---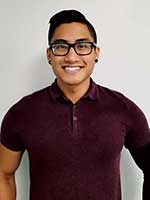 Adam Bernardino, PT, DPT
Is a licensed Physical Therapist at the Sherman Oaks Vargo PT clinic and holds a Doctorate of Physical Therapy. He utilizes evidence-based practice such as corrective exercise, skilled manual therapy, and advocacy for patient self-efficacy to restore maximal safe function.
Dr. Bernardino has a passion for outpatient orthopedics with clinical experiences ranging from inpatient to outpatient rehabilitation settings, which include Henry Mayo Newhall Memorial Hospital, Kaiser Permanente Woodland Hills, and Vargo Physical Therapy.
Dr. Bernardino earned both his Bachelors degree in Exercise Science and Doctoral degree of Physical Therapy from California State University Northridge. He is CPR/BLS certified and is currently working towards ASTYM and Orthopedic Clinical Specialist certification.
During his free time, Dr. Bernardino partakes in weight lifting, motorcycle riding, and music production.
Specialties:
Movement Science
Outpatient orthopedics
CPR/BLS certified