Westlake Village Staff
Gene Flores, PT, MPT, OCS, CSCS
is a Partner and Clinical Director at the Westlake Village Vargo PT clinic. He has been a licensed Physical Therapist since 2004, holds a masters in physical therapy and is a board certified orthopedic certified specialist. Mr. Flores works to combine manual therapy techniques along with exercise to improve patient health and well-being.
Mr. Flores received his bachelor's degree in health sciences as well as his master's degree in physical therapy from California State University, Northridge. In addition, he is an ASTYM System Certified Clinician and has received additional training in orthopedic manual therapy and orthopedic physical therapy. In 2009 Mr. Flores obtained his Orthopaedic Clinical Specialty (OCS) certification from the American Board of Physical Therapy Specialist. Mr. Flores is also a Certified Strength and Conditioning Specialist (CSCS) through the National Strength and Conditioning Association.
Mr. Flores is married and likes to spend time off with his wife and children. When not with them, you can find him at the gym taking part in both weight and cardiovascular training.
Specialties:
---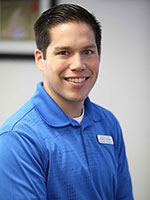 Jesse Young, PT, MPT
is the Clinical Director at the San Fernando Vargo PT clinic having moved there after serving as the Clinical Director of the Westlake Village Vargo PT clinic. He has a vast array of orthopedic experience treating spine, upper and lower extremities as well as experience treating cases of plantar fasciitis. Mr. Young is ASTYM certified for the treatment of muscle and tendon acute and chronic issues.
Mr. Young received his bachelor's degree in kinesiology and his master's degree in physical therapy from California State University, Northridge. He has also completed additional educational courses in spine rehabilitation. Prior to coming to Vargo PT he worked as a - sports physical therapist intern with the Los Angeles Dodgers where he helped to diagnose and treat extensive acute injury management and baseball-specific rehabilitation.
A triathlete himself, Mr. Young completed the Arizona Ironman. He is an active member of the South Coast Triathlon Club. You will often find him treating fellow athletes from the club as well as from local premier high school athletic programs. In addition to endurance athletics, he enjoys golf, baseball, outdoor activities and spending time with his family.
Specialties:
---
Samantha Magnani, PT, DPT
Is a licensed Physical Therapist at the Westlake Village Vargo PT clinic and holds a Doctorate of Physical Therapy. Dr. Magnani has experience working with orthopedic related injuries. She has a passion for evaluating and developing a plan of care based on current research to help achieve each patient's individual goals.
Dr. Magnani received her Bachelors degree in Exercise Science with an emphasis in Physical Therapy from Grand Canyon University while being a full time student athlete in Swimming. As team captain, she became a 12x NCAA All American Swimmer and 8x RMAC Champion. She then completed her Doctorate in Physical Therapy at California State University, Northridge. She is CPR/BLS certified and working towards her ASTYM certification.
When not working, she enjoys spending her free time outdoors at the beach, swimming, running, skiing, sky diving and trying new recipes in the kitchen.
Specialties:
---
Samantha McCarl, PT, DPT
is a licensed physical therapist and holds a doctorate in physical therapy. Her primary focus at the Moorpark Vargo PT clinic is to evaluate patients and manage their plan of care. Perhaps equally important, Dr. McCarl works to educate and train patients themselves on their condition helping them to understand their plan of care, what they can do to speed the process as well as preventative measures for the future.
Dr. McCarl received her bachelor's degree in biomedical science from Texas A&M University. Later she earned her clinical doctorate in physical therapy from the Massachusetts General Hospital (MGH) Institute of Health Professions. In addition to this, she has undergone additional training in Kinesio taping, Mat Pilates, NovaCare shoulder evaluation and treatment, NovaCare ankle evaluation and treatment, and Sahrman movement analysis to evaluate and treat the lower back.
Prior to coming to Vargo PT she held a number of therapist and managerial positions at NovaCare Rehabilitation in their Whittier, Raleigh and Lawrenceville, NJ locations. Before that she worked at Spaulding Rehabilitation Hospital in Boston and Laurelhurst Physical Therapy in Portland. She was also an assistant women's basketball coach for Warner Pacific College in Portland.
Dr. McCarl is a member of the American Physical Therapy Association – Orthopedic Specialty (APTA). She is married and has a daughter. She is a runner and plays basketball. She also enjoys making homemade ice cream for fun.
Specialties: