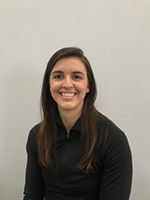 Amanda Corona, PT, DPT
is a licensed physical therapist. Originally a San Fernando Valley native, life as a Valley Girl was surrendered to New York's Stony Brook University, where Dr. Corona earned her Bachelors of Science degree as well as her Doctorate of Physical Therapy while also successfully navigating Division-1 student-athlete life on Stony Brook's collegiate basketball team. Dr. Corona believes in a comprehensive approach to treatment: integrating evidence based practices, clinical experience, and practical knowledge to guide her decision making in individualized treatment plans for her patients.
Dr. Corona's love of sports and athletic capacity stems from a lengthy Basketball career and focused her clinical experience toward similar specialties such as orthopedic pediatrics, dance rehabilitation, concussion management, and sports performance. In addition to her expertise in outpatient orthopedics, Dr. Corona also has experience with inpatient acute care. During her clinical training at Saint Joseph's Medical Center, Dr. Corona worked with ICU patients and applied early mobilization techniques to help reduce the likelihood of physical and neuropsychological impairments.
Outside the clinic, Dr. Corona leads an active lifestyle where she frequents the Sierras to backpack and ski with her husband as well as more traditional forms of training such as weightlifting and Crossfit.
Specialties:
Orthopedics
Strength and Conditioning