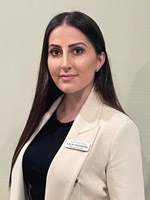 Lala Yaghoubi, PT, DPT
Dr. Yaghoubi is a licensed Physical Therapist at Vargo Burbank. She obtained her Bachelor's degree in Kinesiology: Rehabilitation and Therapeutic Exercises at California State University of Los Angeles and pursued her Doctorate in Physical Therapy from West Coast University.
Dr. Yaghoubi has completed clinical rotations at Burbank Healthcare & Rehabilitation Center, Vargo Physical Therapy, and Concentra Physical Therapy.
In addition to working at Vargo, she also works at Rehabilitation Centre of Beverly Hills. She is a member of the American Physical Therapy Association (APTA), and is First Aid, CPR, AED, BLS certified. During her free time, she enjoys swimming, hiking, reading, and spending time with family.
Specialties:
Outpatient physical therapy
Inpatient physical therapy
Post-surgical rehabilitation
Fluent in Armenian and Farsi/Persian