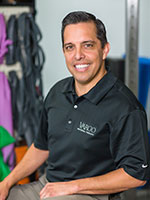 Andrew del Rio, PT, MPT
is a Vargo PT Partner and the Clinical Director at the Santa Clarita Vargo PT clinic. Mr. del Rio has been a licensed physical therapist at Vargo PT since 2000 and brings a wide variety of clinical experience. His specialties include Sports/Orthopedic Rehabilitation, McConnell taping, Kinesio taping, injury prevention and advanced manual therapy techniques. He is also an ASTYM certified clinician.
Mr. del Rio holds a bachelor's degree in health science and a master's degree in physical therapy from California State University, Northridge. Mr. del Rio works closely with local high school and college athletes.
Mr. del Rio is a member of the American Physical Therapists Association (APTA) as well as the Santa Clarita Chamber of Commerce.
Married with two children, Mr. del Rio enjoys traveling with his family. He also enjoys coaching his children's sports teams and golfing.
Specialties:
Orthopedics
Isokinetic testing
Injury prevention
Advanced manual therapy techniques